I saw this online the other day … and I have to say, it definitely describes me to a "T".
The summer swim season drew to a close last night … and what a night it was! First of all, the weather was ideal. And secondly, my Ts did a fabulous job! T#1 finished first in his individual medley and his breast stroke – in dramatic come-from-behind finishes… and came in a close second in the butterfly. Their team finished with a 6-2 record. The conference competition will be a week from tomorrow … T#1 will definitely make conference, and T#2 is on the cusp … T#3 won't because the conference competition is open only to 8+ year olds.
Papa and I left the meet a little early to bring T#4 home for the evening … she spent the night here because she'll be here all day today while the rest of the family is going to Six Flag with friends.
I finished the quilting on T#4's quilt yesterday afternoon. All I need to do now is to cut the binding strips and then stitch it on. I'll have to wait until Saturday to do that … and then it will be time to start piecing my storm at sea quilt.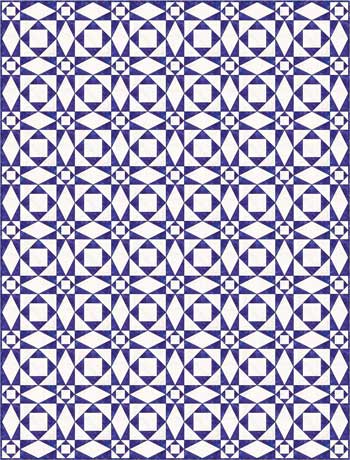 If you recall, I'll be making in blue and white … just like the drawing above. I can't wait to start piecing.
Have a fabulous Friday!