Daylight savings time starts this weekend.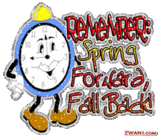 I love daylight savings time! Even retired, I love having more daylight hours later in the day. During the hottest part of the summer, things cool off enough in the evenings that I enjoy getting outside after dinner. Thinking about that reminds me when I was watching the Ts, and T#3 insisted that it couldn't have been bedtime because it wasn't (completely) dark yet when it was time for him to go to bed. Which reminds me of his boo boo Wednesday night. We were at church, and they have a motorized helicopter that he just loves to play with. It's kept in a room off the main activity center, where we were, so I sent him off to get it. One of my friends brought him to me, explaining that he'd had an accident with the helicopter and cut the inside of his lip (it was a minor cut). He told me that he broke his lip. ;-) He is such a hoot ... I just can't get enough of him. It doesn't hurt that he's still at the age where he just gets ecstatic when he sees me, still lets me hold his hand when we walk somewhere, is still free with his kisses and hugs. That does this Nana's heart good.
We woke up to a heavy frost this morning, but the sun is burning off much of it. It's supposed to get near 60 today. We're starting to get some warm weather every once in a while ... but as is typical in the spring here in the Midwest, that usually means major storms (including tornadoes) will follow.
Speaking of weather, I was saddened to read the reports of the earthquake in Japan. A good friend has family in Japan, so we're praying that they are ok. My sister is in Sydney (on business) and will be flying to Singapore later today; those areas are all under tsunami warnings, so we're praying that she will be safe. And of course we're praying for all those who we don't know who have been or will be effected by this earthquake and resulting tsunami.
This afternoon, I'll head to DD's to watch the Ts this afternoon. She's heading to the
Hearts at Home conference
with a friend, and I'll be watching the Ts until Daddy gets home from work. Today has all the earmarks of a wonderful day ... time to spend sewing, warmer weather, time with the Ts, and some quiet time with DH to wrap up the day. I'm not sure what to segue this to other than I hope you all have a fabulous Friday!