Joyce has come up with some more interesting questions for our Wednesday Hodgepodge. I don't know how she does it ... but I'm glad she does! If you'd like to join in the fun, just click the link above.
1. What would you do if you found a pot of gold? Let's pretend this pot of gold is worth exactly $1500 (which would actually be more like a cup of gold at current values). Anyway, let's also pretend you have to spend it as opposed to making a donation someplace. Now tell me what you would do with that cup pot of gold?
$1,500 isn't enough for me to redo my kitchen, so I'd probably use it to spend two or three weeks on Hilton Head.
2. Do you celebrate St. Patrick's Day in any way, shape, or form?
Not usually. But now that I'm back to work, I will. The office I work in will use just about anything as an excuse to have a snack day.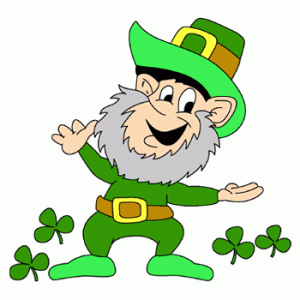 3. Have you been bitten by the Spring Cleaning bug? What spring cleaning job most needs doing at your house? What spring cleaning job are you most dreading?
A little? I tried to convince myself that since we've only been in this house a little over 2 years, there's really nothing that needs a Spring Cleaning. It may not need a thorough, deep cleaning, but it certainly needs more than a standard weekly cleaning. I need to clean the windows, baseboards, trim, doors and blinds. Of all those tasks, I hate cleaning the blinds most of all ... no matter how I try to do it, I just don't seem to be able to get them as clean as I like them (maybe it's because I don't have a device like in the picture?)
.
4. lime-shamrock-sage-forest...your favorite shade of green?
Sage.
5. Thomas Jefferson once said, "I'm a great believer in luck, and I find the harder I work, the more I have of it." So...do you believe in luck or do you believe we make our own luck?
I believe what some call good luck is a blessing from God, and I believe that we can avoid what some call bad luck by planning, preparing, and hard work.
6. Monday (3/14) was Pi Day. Get it? Pi =3.14. Those math types are so clever aren't they? Since I'm not one of them tell me what's your favorite piE (the edible kind).
I love pie. I'd rather have pie than just about any dessert (not that I'm opposed to cookies or cakes ... I just prefer pie). And I like just about all kinds of pies. I guess my favorite would be an apple crumb pie.
7. That same date (3/14) happens to be the birthdate of the late physicist Albert Einstein. I bet he knew the value of Pi. So...what do you think is more important and or valuable in life... intelligence or common sense?
Can I choose a combination of both? ;-) I would think that it would be easier (and safer?) to have more common sense ... but to have all of one and none of the other would be a sure recipe for disaster.
8. Insert your own random thought here.
My heart continues to break for the people of Japan. I can't even bear to watch the news any more ... it's just too heartbreaking. I know that there are many reputable organizations that are raising funds for relief efforts ... I'd like to encourage you all to prayerfully consider joining in providing support for these relief efforts. Even a small amount, when added together, can make a difference. And of course, please continue to pray for Japan.