It's been a long time since I participated in Flashback Friday … it's about time I joined in the Friday Fun! If you'd like to join in or view others' answers, just click on the button above.
He who plants a seed beneath the sod and waits to see a plant, believes in God.
Do you have any memories of gardens from your growing-up years? Did your parents have a flower garden?
My mom always planted annuals. Her favorites were portulacas
and salvias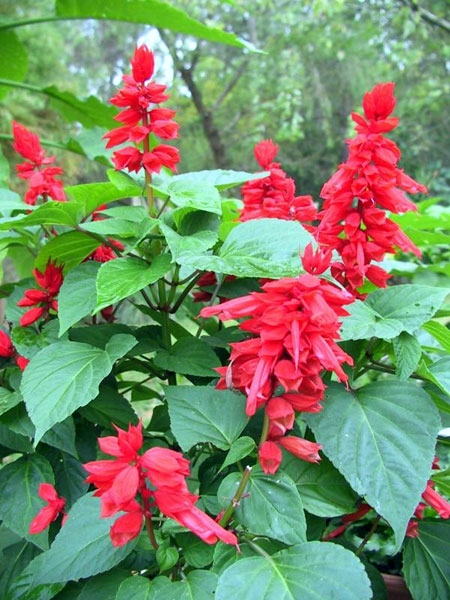 Her favorite perennials were irises
and sweet peas (the mere sight of which
always
reminds me of my mom)
Was landscaping important to them?
No, not really. I don't remember anyone else in the neighborhood having anything special in the way of landscaping; I'm not sure that landscaping was as popular/important back in the day as it is now. I recall we had a couple of yews planted in front of the house and several trees in the yard … and that was the extent of the landscaping.
Did they take care of the yard themselves or have someone else do it?
Yes, my dad always mowed the lawn, except when we lived in the country and had a riding mower. My sister K and I would fight over who got to ride (or drive as we would say) the mower. My dad, at 88, still mows his own lawn (although he does use a riding mower now, up until about a year ago he pushed a mower).
What about a vegetable garden? Did your family have one and was it big or small? Any fruit trees?
We usually had a garden … tomatoes, onions, radishes and leaf lettuce. We never had any fruit trees.
Did your mom (or anyone) "put up" (as we say in the South) or can the bounty from a garden?
No, we generally planted what we could eat ourselves … there wasn't anything left over to can or freeze.
What involvement did you and any siblings have in planting? Was growing things encouraged, discouraged, or treated with ambivalence?
We girls helped by weeding and picking whatever was fresh.
What is your attitude, ability and involvement in gardening today?
I love working in the yard, but my preferences tend toward working with landscaping. We haven't had a vegetable garden since we got our dogs (who helped themselves to the tomatoes growing on the plants), although we did try (unsuccessfully) to grow some topsy turvy tomato plants last summer.
To be honest, we've found it easier to buy what and as much/as little as we like at the local farmer's market or the local produce stand. Given the trouble our friends/neighbors have had with rabbits in their gardens, I think we'll continue to shop the farmer's market and produce stand.