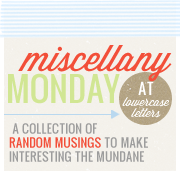 I got to watch the Ts Saturday evening. While I only had a couple of hours with them (because they had an early bedtime in anticipation of the time change), it was still a wonderful evening spent with my four favorite little people (can a 10 y.o. who's soon going to be as tall as his Nana be called a little person???).
I woke up to a gorgeous sunrise Sunday morning.
Too bad the weather for the rest of the day wasn't as gorgeous … we had rain all afternoon and evening. At least it's going to be a nice day today … in the mid 70's.
The fillable plastic Easter eggs I ordered for the Ts came Saturday. They turned out fantastic.
Lea at Cici's Corner
shared the link (and the pictures of the ones she ordered for her grands) in last week's Miscellany Monday.
I've been working on my blue and white Irish chain quilt, but now that the weather is turning nice, I will be spending more of my daylight hours enjoying the wonderful weather. I just love, love, love spring … the anticipation of buds turning to blooms, the greening up of the grass and the trees, the warmer weather, the longer days.
I am still in the process of changing the time on the
clocks
time-keeping devices … we only have two clocks … but we have three appliances, landscaping lights timer and exterior lights timer that keep time/have clocks, and that's not counting our laptops and cable box (which automatically change time – whew!). I've changed the time on the two clocks … but still need to change the time on the appliances and timers. The only downside to the time change, for me, is changing all the clocks and timers. Otherwise, I love having more daylight at the end of the day (and wouldn't mind if we had daylight saving time all year long).