I'm so glad it's Friday! Even though I'm retired, and yes, every day is the same as the weekend, I still find myself looking forward to the weekends.
And I'm especially looking forward to this coming weekend because it's time for Daylight Saving Time!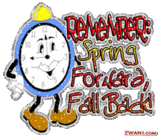 I LOVE, LOVE, LOVE Daylight Saving Time! I don't mind getting up before sunrise (doing so gives me a chance to see some of God's beautiful handiwork), and I love having daylight after dinner. In December, I was ready to go to bed right after dinner because it had been dark so long, it just seemed like it ought to be bedtime! ha! I'd be happy if we had Daylight Saving Time all year long!
It's so sunny outside … I'm ready to head outside and enjoy the beautiful weather. Oh wait, it's still chilly. Ok, maybe I'll spend the day inside … quilting (of course). But it's going to get nice and warm next week … in the 70's all week, with 77 forecast for Tuesday! Now those days will definitely be days to spend outside!
Speaking of quilting, I'm continuing to make good progress. I'm getting pretty close to having 1/2 of the blocks quilted … and of course, there's the borders on top of that. I spent a good chunk of yesterday quilting … while watching
The Big Sleep
, then listening to the Cardinals win in Grapefruit League play, and then watching the Blues win another game.
I'm still doing well with my switch from Diet Coke to iced tea. Do I miss my Diet Coke? Yeah … a little. It's more convenient to just pop open a can of soda than to lift the top off my cup, add ice cubes, pour in the iced tea.
And I do miss, a little, the crisp, refreshing taste of a Diet Coke. But I don't miss that enough to switch back.
It'll be two weeks tomorrow that we'll be on our way to southern Florida for Spring Training. We've been doing some planning on what we plan to do on the days we don't watch the Cardinals. It looks like we'll visit
Everglades National Park
; we had hoped to get there last spring, but we ran out of time. We plan to see the flora and fauna of the Everglades and do some hiking. Every spring that we go to southern Florida, I hope to be able to see a manatee ... while I'll be tempted, I'll spare those nearby … and refrain from singing
.