This week's questions:

1. What is your favorite yogurt flavor?
I like the Blue Bunny Key Lime Pie and Coconut Creme Pie flavors. (Yes, I know that I've listed two flavors.
) I like to crumble a graham cracker into a bowl, add the yogurt and a dollop of whipped cream on top … voila! instant pie! Or close enough, especially when watching what I eat.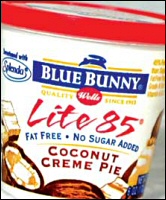 2. Ankle or knee socks? and on the same theme, white socks or coloured??
Lower-cut ankle socks (had enough of the knee socks when I was growing up, thankyouverymuch) … and the color I choose matches the shoes I'm wearing … white socks with white sneakers, black socks with black shoes.

3. How is the weather right now?
Pretty close to perfect here in southwestern Illinois. The high over the weekend was right around 80, with a nice breeze blowing in the open windows. What a welcome relief from the 90+ temperatures we had last week!
4. Are you a fast typer?
Yes, I think I am … and my co-workers' (unsolicited) comments would bear that out.

5. Red or White Wine?
Neither … I cannot acquire a taste for wine. My sister L is a wine aficionado, and when we were in Oregon, she ordered a glass of some especially good wine, offered me a sip, assuring me that I'd like it … nope.