Once again it's Wednesday – Hump Day! And once again Joyce has come up with 8 unique and interesting questions for this week's HodgePodge. If you'd like to play along or just see how everyone else answered the questions, just click on the button below.
1. Summer's here-whoohoo! What's your favorite sight, sound, AND smell associated with summer?
My favorite sight of summer would be red, ripe tomatoes on the vine; sound would be kids laughing while splashing in the pool; smell would be meat (chicken or pork particularly) cooking on the grill.
2. Fireflies or lightning bugs...what are they called in your neck of the woods?
Lightning bugs. I remember staying outside until dusk and collecting lightning bugs, putting them in an old glass jar (with holes poked in the lid), and keeping the jar in my bedroom.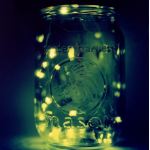 3. What is something from the past week that reminded you of your childhood?
I have to be honest and admit that there wasn't much of anything this week that reminded me of my childhood.
4. Define 'the good life'.
My life … although I suppose that it could be just a wee bit better if we were living on the beach, with DD & her family no more than a couple of blocks away.
5. Tell us what we'd see if you took a snapshot of your desk/work space?
Since I'm only back at work temporarily, my work space (cubicle) is sparse … a computer in the center, a phone and an inbox to the left, an adding machine to the right. At home, I don't have a desk … I have a laptop, and it's usually on the kitchen island.
6. Peaches or watermelon...yes, you have to choose.
I LOVE both, but I guess I'd choose watermelon, the quintessential summer fruit IMHO.
7. Ever been skinny dippin'? Is that too much for the Wednesday Hodgepodge? Rest assured we won't need details...unless of course you feel you must but remember, this is a family friendly blog so keep it G rated.
Nope.
8. Insert your own random thought here.
Two MV 22 Osprey flew over our house late yesterday afternoon. I heard what sounded like a HUGE helicopter … it got my curiosity up, so I went out the door to take a look. Turns out, it was no helicopter … but it wasn't a plane either … I'd never seen anything like it before! When DH turned on the ballgame, we learned that there was a flyover by two MV 22 Osprey at Busch Stadium prior to the start of the ball game to commemorate Marine Week in St. Louis … and these were the planes that flew over our house … evidently they were making their way to St. Louis for the pregame flyover, prior to performing the flyover at the ballpark. It was certainly a spectacular sight to see them fly over our house!