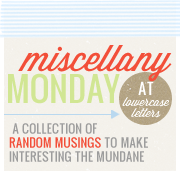 As you can see from the button above, this meme is designed to help make the mundane interesting. I have to wonder if my mundaneness is beyond the help of this meme … but it can't hurt … so welcome to today's miscellany.
1. Something (or someone?) had gotten to her nest. There are broken egg shells around the nest … and as a result, mama duck has abandoned her nest. That just makes me so sad.
2. We had another round of storms pass through last night. This one had hail … several of the stones were nickel-sized or better. Hopefully the hail didn't do any damage … it was just a year ago when we had a storm with hail that damaged our roof and siding. I don't want to have to go through that again.
3. I almost didn't get out and plant those "freebie" plants yesterday … too sore from the digging up on Saturday, but I'm glad I got them in the ground. It's still raining this morning and is supposed to keep raining all day. The weather here has been just plain weird here … for the past 7 months or so.
4. Am I the only one who gets an interesting thought and thinks "I've got to share that on my blog" … only to forget the thought when I sit down to write. Hence the need for a meme that makes the mundane interesting! ha!
5. Time to get caught up on cleaning up around the house. I've been busy (and lazy) … and have let tidying up pass for housecleaning. <oops> Since it's going to rain today, I may as well take advantage and get to work around the house.