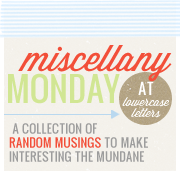 I haven't done a Miscellany Monday in a long, long time … and I don't know why since my life is the very definition of randomness. ;-)
Another weekend has come to an end. If only the week days would go by as quickly as the weekends, right? And yes, even though I'm retired (ok, mostly retired), I still look forward to the weekends and hate to see them come to an end.
Saturday was a lazy day here (haven't had one of those since mid-May), I went to the slider to just look outside and saw this out on our deck.
I have no idea what kind of lizard that is … I had no idea that little lizards like this even existed this far north.
Yesterday I got a bit of quilting done. I quilted in the afternoon while watching Steel Magnolias. That's a movie that I can watch again and again … and never fail to have tears in my eyes in certain parts or recite some of the memorable lines.
DH seems to be coming down with some kind of respiratory bug … hoping he keeps that to himself!
This morning I've got an Italian beef going in the crock pot. I don't know why I don't use my crock pot more often. I need to be more intentional with my meal planning; DD has found some kind of meal planning program that she likes … I'm going to have to ask her for more details.
I read on another blog that some readers are concerned about the Feedjit app. While IMHO there was nothing to be concerned about regarding privacy (the information I see is the same that any reader would see … the general location [by city] of the readers' ISP), I can understand how some might be a little concerned and removed that from my blog. I will say that it was interesting to see how many readers stopped by; my mind was completely boggled by some of the locations … places within an hour's drive and places halfway around the globe.
We have a hibiscus plant that we put out on our deck … they're not hardy here, so we bring it inside over the winter. This summer, other than a smattering of blooms in early June, that hibiscus hasn't bloomed. Finally we're getting a second round of blooms. I love seeing the color … and love that the blooms draw hummingbirds. Granted, this bloom was a bit past its prime when I took the shot, but it still is beautiful.
It looks like Hurricane Irene might decide to visit the Outer Banks ahead of us, so I guess that means that I'll be doing some research on an alternative destination for our trip next month. I realize that it's way too early to call off the visit to the OBX, but it won't hurt to have an alternate in place … just in case.