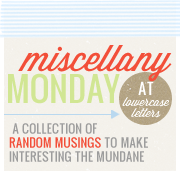 Once again, a weekend has just flown by (where DID it go??) and Monday's here … which means that it's time for Miscellany Monday.
1. Watched a lot of the weather channel this weekend. Remember, I told y'all that I'm a weather geek. And hurricanes seem to be especially fascinating to me … I don't know if it's the anticipation or the fact that they seem to hit in places where I've been or what. So we watched a fair amount of Irene coverage. And while she didn't do nearly as much damage as originally forecast, that's small consolation to those affected by her winds, rains, and flooding.
2. Got a good bit of hand quilting done on T#4's big girl quilt. I still have a ways to go, but I'm making some progress.
3. Watched some movies on TV … we'd seen most of them before, but at that price, they were worth watching again (and since we'd seen them before, I could quilt along while watching).
4. Got our plans finalized for our alternate destination for our trip next month. While Irene didn't do as much damage to the Outer Banks as we were afraid she'd do, she did make a direct hit. We decided that we'd rather wait to go next year when we know that everything should be back 100%. We found a new travel website … www.lastminutetravel.com. It's similar to www.hotwire.com … you don't know what hotel you're getting until you've booked it, but they do provide some description and pictures of the rooms … and since we've stayed at the hotel being offered, we knew what we were getting. And we got a rate almost 25% cheaper than what www.hotwire.com was offering. On top of that, they do give refunds for cancellations (with enough advance notice), unlike www.hotwire.com.