It doesn't feel right not having Wednesday Hodgepodge today … not that I don't understand the reason why Joyce has chosen to take a bit of a break from blogging (including Wednesday Hodgepodge). But it's become a habit to answer the 8 questions and to see how everyone else answered them, and I have to admit that I'm missing that this week.
Yesterday was a nice, lazy day here at Chez Nana. I spent a good part of the day in the sewing room. I got a few more blocks finished. I did find my notes on the log cabin quilt … I hope to be able to get 90 blocks and will set it in the fields and furrows setting.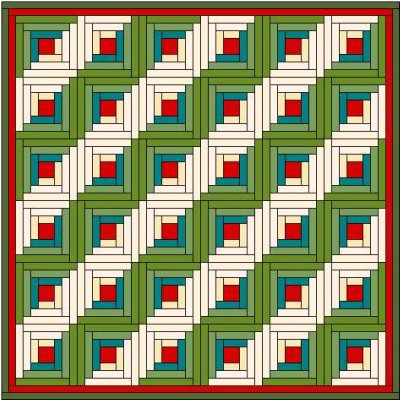 I usually set my log cabin quilts in the barn-raising setting, but I feel like doing something a little different with this one.
I also finished the book I've been reading for the last week.
I'm always on the lookout for free books for my Kindle, and I was able to get this one from Pixel of Ink. It's a Christian love story (so no steamy scenes) … it was a little predictable, but it was a fairly good read. Besides, it was set, for the most part, on Sanibel Island (where we visited a couple of years ago) … it was almost as good as being there again.
My sisters are coming in from out of town this weekend for a bit of a family get-together. My youngest sister is the one coordinating it, so I'm not sure what we'll be doing. She likes to go-go-go, so I do know that we'll be busy the entire weekend.
There's nothing on my agenda for today. I need to get to the nursery and pick up some flowers … I like to put some flowers in pots and place them around the house. Maybe today will be the day.