After lunch with the Prime Timers from church Thursday afternoon, DH and I drove over to St. Louis for some shopping (and to scope out where my hand piecing class will be next Tuesday).
I bought fabric – and lots of it. I bought a bunch of fabric for T#4's bedroom makeover. It was late in the day when I took the picture (less than an hour and a half before sunset, but it was still pretty sunny … I really
thought
hoped that the colors would be truer than they are
).
You can click on the picture to get a larger, more detailed picture. The colors are a little washed out in the photo … they're really much prettier in real life. Hopefully when I get to working with that fabric, I'll have better conditions (and will use my "real" camera) so I can get a better photo.
I'm not certain what pattern I'll be using to make her quilt … I'm leaning toward this
four patch variation
(with my four patches made from 2 colors per four patch for a little less
chaos
randomness). Hopefully I can get DD on board.
I also bought some brick red and off white for my Drunkard's Path quilt. Unfortunately, the photo didn't come anywhere close to representing the true colors … the red was a burgundy red instead of brick red and the off white was pure white. <sigh> Again, perhaps I'll be able to get a better shot when I start working with them next week.
As I mentioned, I'm planning on hand piecing my Drunkard's Path, and so I
must have
a finger pincushion … and look what I found on Etsy! Isn't it the cutest thing? Hopefully it will be here by the beginning of next week.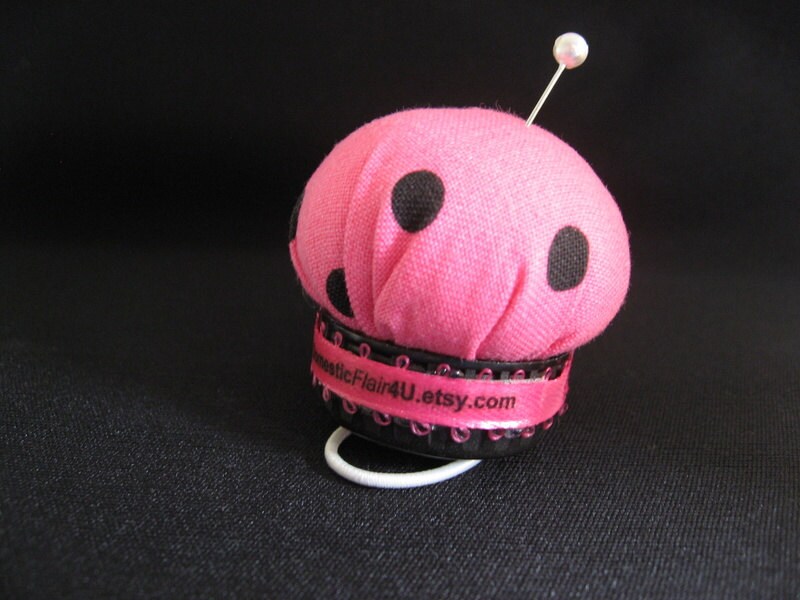 Now I need to find a cute little box to carry my block pieces, scissors, needle and thread, and my new finger pincushion.
I have a funny to share with all of you who sew. A husband went to change a light bulb in his wife's sewing room. When he was finished, he came out and exclaimed to his wife: "What in the world are you going to do with all that fabric you have in there? There must be $100 worth of fabric in there!"
That's an awful lot of quilting randomness, isn't it? But only rightly so … since tomorrow is National Quilting Day and I won't be doing any quilting.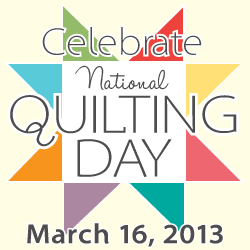 Nope, not a stitch all weekend as we'll be heading to DeKalb tomorrow morning to watch T#1 swim in the State Competitions. I can't wait.