It's Friday again … which means that the weekend is here!
I had a wonderful day yesterday with the grands. I picked them up at 7:30, so our first stop was to pick up donuts for breakfast. Each one got to pick out whatever he/she wanted. T#4 won the hearts of the checkers when she blew them a kiss to say goodbye as we were leaving.
I explained that I pieced my log cabin quilt in the "fields and furrows" setting, instead of the "barn raising" setting that I've used in the past. I didn't stop to think that those terms might be confusing to non-quilters … and that I owe them an explanation.
Probably the easiest way to explain the setting terms is visually.
The setting I used on the quilt top I just finished is called "fields and furrows" because the placement of the blocks result in what appears to be rows (or furrows).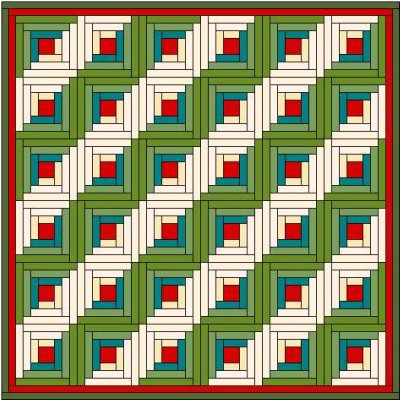 The setting I have always used in the past is called "barn raising". I'm not sure why it's called barn raising … maybe if I knew something about how barns were raised/built in the "olden days", I'd know why they chose that name. I can't find anything online to explain why that name was given to that setting. Maybe someone reading will have an explanation.
There are other settings as well, but these two are the ones that I liked best, with the barn raising setting my most favorite. But I'd already made several in that setting and wanted to try something a little different.
Speaking of my log cabin quilt, I need to find some wide backing fabric for the backing (the underneath fabric). Since I hand quilt, I prefer to use the extra-wide fabric so there's no seam to have to negotiate. I'm looking for a blue that will coordinate nicely with the blues in the blocks, and I found one online that looks like it'll work. I've always been reluctant to shop for fabric online because colors don't always show true in photographs. Since I'm going to be getting backing fabric (which won't show when looking at the quilt top) and since there are several blues in the top, I don't have to match exactly … so it's not going to be a huge problem if the color of the fabric online isn't 100% true.
I hope to get some time with needle and thread today, but I've got some errands that I have to run and I need to spend some time out in the yard, watering my flowers (since we didn't get enough rain yesterday to do any real good).