In my blog reading, I've seen that many bloggers are deliberately taking the time, throughout the month of November, to list at least one thing for which they're thankful. Life can be busy, even for those of us who are retired, and too often we need a reminder like this to take the time to count our blessings. So while I'm not a part of any "official" challenge to do so, I'd like to follow suit ... and take the time during this month of Thanksgiving to develop an attitude of gratitude.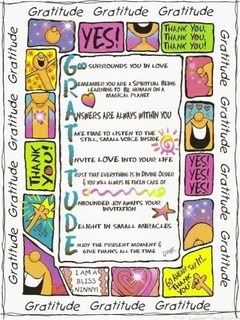 Today, I'm thankful my DH. Especially today since it seems like the last couple of days, for some strange reason, we seem to be butting heads over the silliest little things. Stopping to realize what a blessing he is to me has given me the resolve to refuse to get caught up in the silly little bickering ... to appreciate him (in spite of those idiosyncrasies that drive me crazy and result in some "head butting") ... to thank God for him.
Some of you have asked to see pictures of the puzzle tray ... you all may have to wait a day or two. We had our carpets cleaned yesterday afternoon, and the cleaners said not to put anything back onto the carpets for 24 hours. Who knew how much stuff we had on the carpets! Of course, it's stuff from four rooms all piled into essentially one room (the dining area). It's all now piled up on the parts of the house with hardwood flooring ... the only areas without furniture & accessories are the kitchen and the hallway! ha! When we get everything back where it belongs, I'll bring the tray inside, put the felt pads on the bottom and take a picture or two. ;-)
The fall weather has returned ... perfect timing since I'd been craving some white chili. I've got a few more chicken breasts thawing for a new recipe (some more comfort food) for dinner tonight. I love fall!
And don't forget that today is Election Day.

Have you voted? Will you be as glad to be done with all the
name calling and mud slinging
campaign commercials as I am? One of the unexpected blessings of losing the land line phones in favor of cell phones is that we were spared all the campaign phone calls. Is there a spot for "none of the above" on the ballot? ha!