It's been a busy weekend so far (more on the details on my weekend wrap-up post tomorrow morning :D ) ... and I didn't get a chance to post at all yesterday. :(
Because I didn't get to post yesterday, I've got two days of thankfulness to catch up on.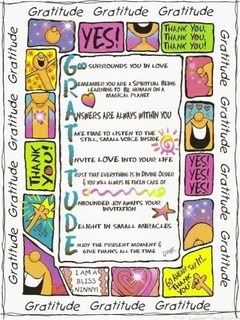 I'm thankful for opportunities to learn. Even though I'm pushing toward a major milestone birthday in a few months, I'm determined to be living proof that we're never too old to learn. One of the things that kept me busy this weekend was taking a class offered by the quilt guild to which I belong ... on applique. I don't know that I'll do a lot of applique work, but I now know that I could if I wanted to. And more importantly, I'll be able to complete the blocks for an appliqued flower quilt that my mom started (when she passed, my dad gave me a box of quilt blocks and pieces for a quilt that she had started ... probably a good 2 years before she died). It is definitely not the pattern that I'd choose on my own, but it'll definitely mean something to me to be able to finish it. I'm thankful for Sunday School classes, where not only do we learn more about Jesus but we learn how to take what we've learned and apply it to our everyday lives. I'm thankful for new technology ... it's not even been 2 months that I've been blogging, and I've learned all kinds of bloggy-kinds of stuff in those 2 months. I'm thankful for all kinds of learning opportunities.
I'm also thankful for music. I'm so thankful for all the songs that help prepare our hearts for worship, whether in our church buildings or in our cars. I'm so thankful that God uses music to teach us important lessons ... that He uses music to help us hide His Word in our hearts ... that He uses music to bring us peace, to bring us joy. I'm thankful for Christian radio stations that broadcast encouraging messages and uplifting music. I'm thankful for music.