The ole blog fodder well ... she be dry today. So I'm joining in on Meet Me on Monday. I've enjoyed reading Monday Miscellany posts on some of my favorite blogs over the last several weeks ... the questions seem fun, so I guess it's time I join in the fun.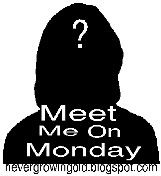 This week's questions:
1. What is your favorite way to eat chicken?
I'd have to say that I do love friend chicken ... with mashed potatoes and milk gravy. But neither DH nor I need all those calories. :-( Instead we love Ina Garten's Chicken Piccata. I am not normally a fan of lemon, or at least I wasn't before I had her Piccata. It's made me re-think the possibilities of cooking with lemon more often!

2. Have you decorated for Christmas yet?
Yes. I've embraced the whole "less is more" philosophy over the last few years. So, we put up a tree, nativity set, Christmas village and a few Santas here and there ... and are good with that. I would like to do some decorating outside ... maybe get a lighted wreath for the gable in front of the house ... but that begs the question of how to get it hung/lit.
3. What is your favorite article of clothing?
Once I hit the big 5 - 0, I decided that comfort overrides style. I wear sweats in the winter, Ts in the summer ... with jeans. I'm not sure I have one single garment that I could say was my favorite.
4. Do you pay your bills online or write checks the old way?
Online. And if they'll do the auto-deduct, even better. At my age, having to rely on my memory to get my bills paid on time isn't the smartest thing! About the only checks we write are for our giving at church, for our real estate taxes, and to the gal who cuts my hair.
5. Do you make Christmas cookies?
Oh, yes indeed! I always have. It started back when DD was little and would be at her dad's on Christmas Eve ... I'd bake some cookies to keep me busy, so I wouldn't feel so lonely by myself. In the years since, it's become an annual tradition ... one that DD & I do together. And now that T#1 and T#2 are getting older, they join in a little, too. I can't wait until we do cookies this year!
Today is going to be a bit of a lazy day. Woke up to cloudy skies and a little rain ... perfect lazy day weather. I'll have to get out in a couple of hours to go get my hair cut (yes, actually today ... I doublechecked my appointment card so I wouldn't pull a repeat of last Monday's
episode
. I need to stop at the UPS store afterwards ... then I would like to spend the rest of the day quilting. A perfect lazy day. ;-)