Wow! What a busy weekend! It's funny ... we're retired so every day is a weekend to us ... yet our weekends still are full of stuff to do!
This weekend, I
had a stay-at-home date night with DH ... fixed a steak dinner and then watched Invictus.
attended a workshop put on by my quilt guild ... I learned how to do needle-turn applique. While I love to hand quilt, I'm not a big fan of hand sewing ... nor am I normally a fan of appliqued quilts. So applique is probably not going to be something I do very often ... but as I mentioned yesterday, I have a box full of some of my mom's completed appliqued blocks and the pieces to complete some more. I want to finish those blocks and put them together to make a wall hanging. Like I said yesterday, they're not the pattern that I'd choose if I were going to make an appliqued quilt, but they were the last quilting project my mom worked on (she probably had to stop working on it when she was diagnosed with lung disease).
quilted while watching the Blues lose - again. Hopefully they won't lose 7 in a row (they won 7 in a row before this current losing streak).
drove up to DD's to check on their house each day while they're out of town (they went to visit DSIL's sister in Chattanooga).
drove to O'Fallon to pick up DSIL's car (DD & the Ts drove the loaded van to O'Fallon to pick up DSIL from work, leaving his car in the parking lot); we drove it back to their house so it'll be there for him when he has to go back to work Thursday morning.
had lunch at Chili's while in O'Fallon (I had the big mouth bites ... I could only eat 2 so I have lunch already planned for today!).
attended Sunday School and worship.
attended a Financial Oversight team meeting at church to discuss the 2011 budget.
started our initial planning for our spring trip ... we are going to go in March this year because I'll be going to the Oregon coast with my dad and my sister in May (we usually prefer to take our spring trip in May). Because we're going in March, we'll go further south so we can get warmer weather ... and take in a few spring training games while we're at it (since we usually get the spring training bug in early March anyway). Because we're on a fixed income now that we're retired, we have a very tight travel budget. If we can keep our lodging costs as low as possible, we can parlay those savings into more traveling. We've always preferred to spend as little as possible on lodging anyway because we'd much rather spend our daylight hours on the beach or seeing the sights. We don't need a lot of the luxuries or amenities offered by the pricier hotels ... as long as our hotel/motel is in a safe area and is clean (and comes with Wi-Fi ha!), we're ok. For this trip, we had a really hard time finding a motel that was in our price range ... we were even looking at motels along the interstate, with intentions of driving the 30 minutes over to the beach and finally we found a motel - ON THE BEACH!!!! <vbg> - in our price range, with good reviews, that's convenient to a couple of spring training ball parks, so we've got the hard part of our trip planning out of the way!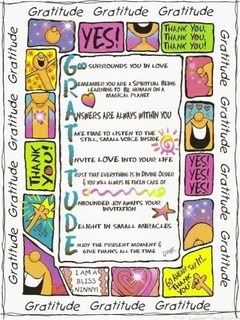 Today I'm thankful for being able to travel. When DH & I dreamed of retiring, we always talked about moving to the beach ... but as frequently happens, life intervenes ... in our case, the arrival of 4 Ts. I just couldn't move that far away. So as a compromise, we travel ... so far through adhering to a very strict budget, we've been able to afford take a couple of trips during the year. We even enjoy the challenge of finding a destination, of finding lodging that will fit in our budget. We love the time together driving to our destination ... even retired, we find ourselves so busy that sometimes we don't have (or take) the time to just sit and talk. I'm thankful for the opportunities that we have to travel.