Linda at
2nd Cup of Coffee
had been doing a weekly meme called the Random Dozen ... I discovered it not too long after I started my blog and thoroughly enjoyed the 12 questions as well as getting to know some of my fellow bloggers. Linda has chosen to take a hiatus from the Random Dozen, so Joyce at
From This Side of the Pond
has decided to step up and "fill in the gap" for those of us floundering with what to post on Wednesdays. Thanks, Joyce!
Here are the inaugural set of questions:
1. Do you think you're more like your mom or your dad?
I see more of my dad in me ... in fact for the longest time, I never thought I could see ANY of my mom's side of the family ... until in my early 50's when I looked at myself in the mirror one morning and saw my Aunt Elva (my mom's sister). I was shocked.

2. Do you like roller coasters?
NO ... NO ... NO ... a thousand times NO. And if there's any doubt in your mind that I'm not 100% serious here (ha!), I'll share my most recent roller coaster attempt. Two and a half years ago, we went to Disney World with DD & her family. T#2 is as fearless as they come; she was almost 4 at the time and couldn't ride all the roller coasters there ... but she WOULD have if she could have! T#1 on the other hand is way more like his Nana ... he didn't want any part of the roller coaster rides ... he didn't even want to ride Splash Mountain (to tell you the truth, I didn't either). So when we got over to Mickey's Toon Town Fair and saw Goofy's Barnstormer, he (reluctantly) agreed to ride it. I (equally reluctantly) agreed to ride it in an effort to show him that roller coasters can be fun (after all it was a ride geared for the little bitty ones ... how bad could it be?). I was determined to put on a smile ... and fake it, if I had to. Well, when that took off and swung 90 degrees, I forgot all about my determination ... and let's just say that DD won't be counting on me to help T#1 get past his fears of riding roller coasters!
3. How did you name your blog and do you now wish you'd thought about it maybe another five minutes before you hit publish? Would you change your blog title if it were not a huge pain in the derriere? (French makes everything sound a little nicer doesn't it?)
I named my blog Empty Nest but Full Heart. My nest may be empty, but my heart is full ... DD may have left the nest, but she certainly hasn't left my heart ... and now there's a DSIL and 4 Ts in my heart, too: I'm quite pleased with the title and have no plans to change it.

BTW, it doesn't appear that it should be too difficult to change the blog title. Just go to the settings tab in your dashboard ... make sure that you're in the basic section (the far left tab) and change the title, click save and voila! a new blog title!
4. What is the best wedding gift you received? Not married? Didn't get any gifts? Then what is the best wedding gift you've given?
My favorite wedding gift when DH & I married were the Pfaltzgraff dishes we got. I'd wanted them for the longest time. I still use them, still love them.
5. What is the one bill you most hate to pay?
Real estate taxes. They're so. ridiculously. high. When we moved from the larger city to this small village, I thought we'd be getting a break on our real estate taxes ... even though this house cost 40% more than what we sold our previous house for, our real estate taxes are 80% more than they were on the house we sold. Makes no sense to me.

6. Is the glass half full or half empty?
I would have to say that most of the time, I see the glass as half full. One of the things that I just can't understand is negative people. Life is just too short to have such a negative attitude all the time, especially for believers!
7. What is your favorite word? Okay okay. Calm down. How about one of your favorite words?
Nana ... there's something about hearing those little voices saying "Nana" (especially when it's combined with the words "I love you") that just makes my heart so full to overflowing.

8. Now, this is where you insert one random thought of your own...maybe something that struck you as funny, something that recently had you scratching your head in confusion, something that annoyed you a teensy bit, something on your to do list, something you are looking forward to, whatever. As long as it is in keeping with the friendly tone we've all come to know and love on Wednesdays then we're good. Don't make me get out my wooden spoon.
If you read my original post yesterday, you saw that I asked the question that I'm going to repeat here ... why do smoke detectors decide that their batteries need to be replaced in the middle of the night? Has anyone ever had their smoke detector start chirping in the middle of the day?
If you thought that this was fun and would like to join in, just click on the button at the top.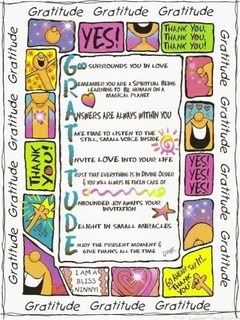 And I can't post until I express my thankfulness today for my Bible. I'm thankful that He has passed along His wisdom and instruction to me. I'm thankful that there are various translations to help me truly understand what God is saying to me through His Word. I'm thankful that I can own and read my Bible without fear of persecution.