What a weekend! Busy ... but good.
Friday, DH & I went shopping for my sewing space. We checked out an option for my sewing area that I would have loved (upper kitchen cabinets with a laminate counter top). Unfortunately, it's out of our price range, and it wouldn't be movable. We're going with a folding table instead ... in our budget, can be used elsewhere if needed, is the perfect size and is movable. We couldn't find a 6' table locally, so I'll have to order one online; I'm going with one with a mahogany laminate top so it'll play nicely with the day bed. We did buy some storage supplies and did some "regular" shopping.
After we shopped. we went to the Gun Club for some Captain Hog's BBQ. Yummy! I keep meaning to try something other than the pulled pork, but it's just so good that I keep going with it. And the awesome sweet potato fries!
On Saturday, I cleaned out and organized the closet in the third bedroom. I originally planned to buy a storage unit for my sewing/quilting supplies ... but it occurred to me that I could claim a couple of shelves of the bookcase. All I'd need to buy were some small storage systems
for my sewing/quilting supplies. This way, they'd be out of the way, out of sight and save us $$. I took out a couple of boxes of stuff that we hadn't used in months, rearranged the Ts' toys, and voila! I have storage for my sewing/quilting stuff. It's a tight squeeze, but everything's in there. While in cleaning/reorganizing mode, I went through my files and did a major housecleaning. The results of my labor (which took most all of the morning) aren't visible to anyone else ... but it sure feels good to me!
DH & I brought in our puzzle tray ... I put the felt pads on the bottom and spread out the pieces for the 2,000 piece puzzle my sister sent us.
Saturday evening, I did some quilting while watching the Blues pull off another OT winner. They're incredibly lucky lately ... but sometimes a little luck is all a team needs to be a winner. ;)
Sunday we went to church ... I subbed in the baby nursery and got drafted to stay in the baby nursery during worship (although a friend advised me that T#1 & T#2 would be part of the CHOW group performing on the stage during the first few minutes of worship, so I snuck out to watch them sing/perform to
"Oh Happy Day"
. :x
DH & I went out for lunch with the four other grandparents after lunch. Ten years ago, I wouldn't have thought that something like that would be possible!
I watched the Blues defeat the Rangers for their 7th win in a row.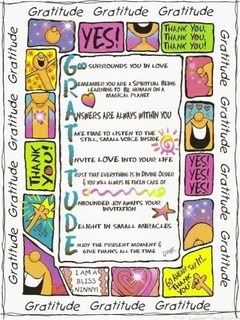 Today I'm thankful for the seasons. I am thankful for fall, for the beautiful colors, for the relief from the summer's heat and humidity, for the opportunity to wear sweatshirts and sweaters, for pumpkins and apples. I'm thankful for winter, for the beauty of snowflakes slowly falling to the ground, for the crunch of my boots as I walk in the snow, for the warmth and beauty of a fire in the fireplace. I'm thankful too for spring, for the fresh start, for the relief from the cold winter weather, for buds appearing on bare branches, for flowers. And I'm even thankful for summer, for shorts and flip flops, for baseball games, cooking dinner out on the grill, for fresh fruits and veggies. I'm thankful I live in a part of the country where we can enjoy all four seasons. I'm thankful for how God reveals His glory through the four seasons.