I was trying to think of a clever title for today's post ... and this song kept coming to mind. So, I had to go with Monday Monday, right? (Yes, I know using this song certainly shows my age. ha!)
Today is one of those days where I just have more than I'd like to do than there are hours in the day.
I get my hair cut in a couple of hours ... I've always worn short hair. My hair is thin and fine and won't hold, so any attempts at growing it out has resulted in the "drowned rat" look (a phrase of my mom's ... anyone else familiar with it?) ... not exactly the style I'm looking for. But DD and Leann my hair stylist have been trying to persuade me to go with a different look, something a little longer. So earlier this summer, I told Leann that I was ready to try something different (I think I shocked her ha!). My hair has reached the desired length, but it just isn't working. :-( So I'm ready to go back to my old cut.
I need to stop at Target after I get my hair cut ... need a few things for Thanksgiving, a few things for home and some Angel Tree gifts.
We're going to dinner at our neighbors' (friends') house.
I'd really like to get some more quilting done (didn't have a chance over the weekend, with T#3 and T#4 here ... NOT that I'm complaining ... I'll forgo quilting to be able to spend time with the Ts any day of the week!!)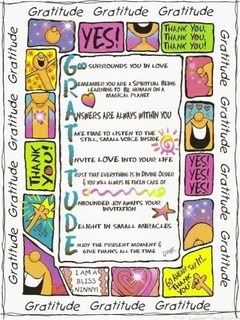 Today I'm thankful opportunities to help out those who are less fortunate. We are entering the Christmas season, and there are loads of organizations who provide for those who are in need. If anyone is led to be a blessing to those who are facing a bleak Christmas, they shouldn't have any trouble finding ways to help. Help doesn't have to come in the form of big bucks ... even small gifts can make a huge difference. I'm thankful for all the ways that I can make a difference.