Why is it that all the random thoughts in my brain ... the thoughts that would make some interesting blog fodder ... have all disappeared now that I've sat down at the computer? <sigh>
Why is it when DH makes plans to be gone for several hours, I wish those were the days that he was home ... and the days he stays home are the days that I wish I could have some "alone" time?
Why is it when I have some free time that I could use to *finally* quilt, I find myself doing just about anything and everything other than quilting?
Why is it when I created a new background for my blog, my emoticons are no longer working?
Why is it when I think I've finally gotten a theme going, I run out of "why is it" questions?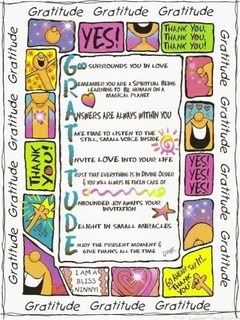 Today I'm thankful for food. I'm thankful that even though we're on a retirement income, we can afford to buy not only enough food to sustain us, we're able to buy food that we can enjoy. When I'm frustrated because I can't think of what I'm hungry for or what I feel like cooking, God reminds me that I'm blessed to be faced with such "difficulties." He reminds me that there are too many who may only have just enough to eat for the next meal ... that there are too many who may not even have any food at all! He reminds me that while I cannot provide food for
all
those in need, I can play a part in providing food for those who need it. I'm thankful for Christian organizations like
Samaritan's Purse
who can take what we give to use it to help feed the countless who go hungry. I'm thankful for food banks that help fill in the gaps for those who don't have enough food to feed their families.