I mentioned in yesterday's post that I had a haircut at 11:00. I show up a few minutes early, as is my habit, only to be told that my appointment is NEXT Monday at 11:00. <sigh> And if you need further proof that I have no memory, I went to Hallmark to buy ornaments for the Ts (a tradition that dates back to when DD was a little girl). I initially bought a "baby's first Christmas" for T#4, walked out the door, and then realized that this will be her SECOND Christmas. I must have had "SECOND" on the brain because I tried to exchange that ornament for one with 2 on it … she's still just 1. And to cap out the day, we walked over to our friends' house for dinner ... only to reach their front door and realize that we left the gift back home. We can add more memory to our computers ... why not for us? I believe I'd be the primo candidate for additional memory! ha!
I think the lack of sleep so many nights last week has caught up to me ... I've got a sore throat and am feeling a little less than 100%. There's nothing on the agenda for today, so I think I'm going to take it easy today. I certainly don't want to be sick on Thanksgiving!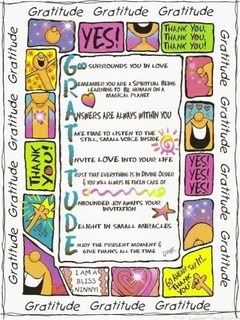 Today I'm thankful for God's protection. I can't even begin to count the number of times when I've inexplicably made a choice that didn't seem to make a lot of sense at the time but in hindsight turned out to be evidence of God guiding me/keeping me safe. As thankful as I am for His protection from physical harm, I'm even more thankful for His protection from spiritual harm. I'm reminded of the Frank Peretti series on spiritual warfare ... while it was fiction, it certainly opened my eyes to the kind of struggle that Paul wrote about in Ephesian 6:12 For our struggle is not against flesh and blood, but against the rulers, against the authorities, against the powers of this dark world and against the spiritual forces of evil in the heavenly realms. I'm so very thankful for God's protection.