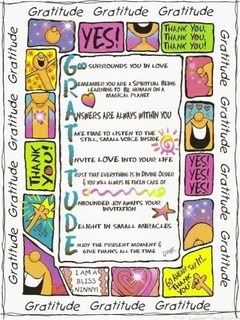 Today I'm thankful for good neighbors. When we chose to buy a home for our retirement years, we had two goals: everything on one floor and a nice neighborhood ... with nice neighbors. When our real estate agent showed us this house - in a town we had never even considered moving to, my first thought was while it was a nice size, a nice layout with everything all on one floor, there were only 3 other houses in this subdivision ... and they were all empty. We prayed and decided to trust God and bought this house. In the last two years, 18 other families have moved in, and we've become very good friends with two of our neighbors. We're so happy here ... God answered our prayers ... not in the way that I had planned or even hoped, but isn't that usually the way He does? ;-)
I believe that I'm even more tired today than I was yesterday (after the midnight run to the grocery store and only 4 hours of sleep) ... I've noticed that as I've gotten older, I can usually get through the first day after a night of not enough sleep ... it's the second day after that really has me dragging. Thankfully, we don't have a lot on the agenda for today ... we'll be going to the Gun Club for Captain Hog's BBQ and will be taking one of the couples I mentioned above.
I got a good bit of quilting done yesterday and would like to get some more done today. Of course, in order to do that, I'll need to get up and away from this computer. ha!