Today is going to be another busy day here.
I need to run to the local quilt shop to pick up a fat quarter of Christmas-y fabric for tonight's guild meeting. We have a quilt raffle where each participant turns in a fat quarter of the fabric (usually a specific color) assigned for that month and gets a ticket ... then halfway through the meeting, they draw the winning ticket. Nothing like waiting until the last minute to pick up my fat quarter, eh? ha! Although I did try to buy it yesterday ... but there were no Christmas-y fat quarters at Joann's and the nearby quilt shop closed at 4:00 ... and I got there at 4:45. :( I'll run over there this morning after I have my breakfast and get ready for the day.
The Ts will be coming over this afternoon ... mama has an appointment this afternoon, so that means I get to watch the Ts. yay! Of course, T#3 and T#4 still take naps in the afternoon, so it'll mostly be time with T#1 and T#2. Still, it'll be a fun afternoon!
I knew that I'd have a busy day, so I had hoped to get a good night's sleep last night ... so I'd be rested and ready to go. Can anyone tell me why the nights when you want to get a good night's sleep, something always happens to interfere with those plans? Last night at 12:30, I was awakened by what sounded like the smoke detector low-battery alarm ... and can anyone tell me why those batteries only run down in the middle of the evening? I never hear those things start chirping in the middle of the day! Anyway, I digress ... I shut the bedroom door in hopes that I'd muffle the sound enough to spare having to wake up DH to have him drag out the ladder and change the battery. Of course, I laid there for over an hour, waiting to hear the chirping ... but I didn't. I woke several times during the night ... not sure if I was just having a restless night, if the smoke detector chirped, or what. But I haven't heard the smoke detector since those 2-3 chirps at 12:30. Now I'm curious ... so what
was
that sound that I heard last night????? :-/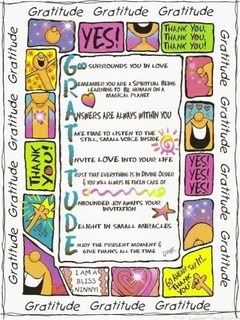 Today I'm thankful for the gift of the
four
five senses.
Imagine not being able to see ... everything I enjoy doing requires the gift of sight ... quilting, sewing, reading, watching movies and sports. With our sight, we see so many evidences of God's handiwork ... majestic mountains, breathtaking sunsets/sunrises, beautiful fall color, colorful flowers. I'm thankful that I can see.
Imagine not being able to hear ... DH has very, very poor hearing, so I have a bit of a taste of not being able to hear well ... and I'm getting to the stage where I don't hear quite as well as I used to :( ... but imagine not being to hear at all. I would miss not being able to hear the birds sing, to hear voices raised together in worship and praise, to hear the sweet voice of the Ts telling me that they "love me too much". I'm thankful I can hear.
Imagine not being able to taste ... the sweet taste of freshly-baked cookies, the savory goodness of a steak, the spicy goodness of Mexican food, the fiery goodness of chicken wings ... so many wonderful flavors. I'm thankful that I can taste the food that sustains me.
Imagine not being able to touch ... not to feel the soft skin of a newborn, not to feel the soft fur of a dog, not to feel the heat from the stove when my hand gets too close. I'm thankful for the sense of touch.
And imagine not being able to smell ... the tantalizing aroma of freshly baked bread, the intoxicating scent of flowers, even the unmistakable scent of a dirty diaper. ha! I'm thankful that I can smell.
Thank you, Lord, for our
four
five senses. :x