Another exciting edition of Wednesday HodgePodge ... if you'd like to play along, just click on the button above.
1. If you had known what they knew then, would
you
have boarded the Mayflower?
Probably not ... I'm definitely not a risk-taker by nature, so heading off for the unknown would certainly have been outside my comfort zone.
2. How far have you traveled on a boat and how do you feel about boats in general?
11 miles ... from the mainland to Ship Island, off the coast of Mississippi. Part of me would like to take a cruise, but the other part of me worries about sea-sickness, being unable to come or go or just do something else. Not to mention that a cruise would take up a couple of years' worth of the travel budget.
3. What traditions have you kept, acquired thru marriage, and/or tossed? If you're single what are some of your family's favorite Thanksgiving traditions?
My family didn't do much for Thanksgiving, so I didn't bring any traditions into adulthood. Then when DD was small, she always spent Thanksgiving Day with her dad, so I wasn't able to build any Thanksgiving traditions when she was growing up. When she married, we started having Thanksgiving at her house ... she and I would get up early start Tom (the turkey) and fix the sides. We usually have the Macy's parade on TV, and we usually scan the sales flyers in that morning's paper while Tom is in the oven. DD & I usually get together at least the night before to prepare desserts, chop the celery & onion, etc. The Blues usually play that evening, so we usually have that on the TV while we're working in the kitchen. We've gotten our menu down pat ... not a lot of unique traditions, but that's ok ... I think we have a fantastic Thanksgiving.
4. What time is dinner and how many will be round your table? And what is the
one
side dish you cannot do without on Thanksgiving day?
Dinner will probably be served at around 1:00-ish ... whenever it's all ready. We're planning on 11 (my dad, DD & her family, DSIL's parents, and DH & me). I have to have the stuffing (the stuffed stuffing, of course!) ... to me, that's the quintessential Thanksgiving Day food, maybe because I don't generally prepare stuffing any other time?
Yes, I know it goes against all I believe in to ask for 'just one', but I made up for it by asking three questions here.
5. Have you ever used a fire extinguisher? Do tell....
I personally haven't, but DSIL has used one at our house. DD & DSIL were dating (I don't even think they were engaged yet), and we were all in the family room, watching a movie, with a fire in the fireplace. A neighbor rang the doorbell ... I answered ... he told me that there was a fire in our chimney. I said thanks and shut the door and started to walk back to the family room ... someone asked who was at the door & what they wanted ... I said that it was the neighbor telling us that there was a fire in the chimney ... and thankfully everyone else "got it" (I don't know if my reaction - or lack of - was due to shock or what). While we were waiting for the fire trucks, DH got the fire extinguisher and a ladder and had DSIL climb up to try to put out the fire. I remember being terrified that DSIL would slip and fall off the roof.
6. Tell about a situation that caused you dreadful trepidation and feet dragging, only to realize later it was a true blessing.
Gosh, nothing comes to mind ... I've been thinking about this for the last 24+ hours ... and nothing comes to mind. I'm sure there has been several times when that has happened ... mostly because I'm not a risk taker (see #1), so it wouldn't be surprising to think that I'd have several situations where I'd be feeling trepidation and be dragging my feet.
7. Baked, sweet, mashed, hash browned or french fried...which one's your favorite?
I assume that you're asking what kind of potatoes we have for Thanksgiving. We have a sweet potato dish (that's more like a dessert) and the ubiquitous mashed potatoes - and plenty of them, as DSIL is a mashed potatoes fiend. However, if you're asking just in general, I love them all ... especially sweet potato fries. If we're dining out and I see them as a side choice, you can bet that I'll order them! ;-)
8. Insert your own random thought here.
Doesn't it feel like Christmas comes earlier and earlier each year? Factor in the fact that Thanksgiving has become just an excuse to watch football and overeat ... and I'm disappointed in how more and more, the reason behind Thanksgiving is being forgotten. :-(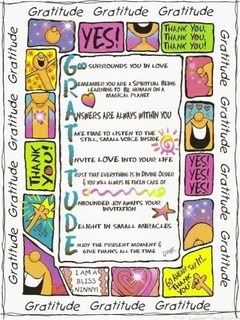 Today I'm thankful for rain. We've had the 3rd driest fall on record here. Not only do we need rain for our grass and plants, but the lack of rain is affecting farmers and damaging city sewer lines. We needed rain ... and thankfully we got some rain Monday evening and it was raining again this morning when I got up. Thank you, Lord, for rain.